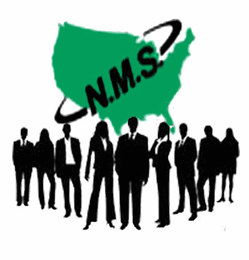 NMS Company Profile & Capability Statement
Founded in 1999 and headquartered in Dallas, TX USA, the National Material Supply Company, LLC (NMS), is a Certified HUBZone & SDB Supplier of a wide range of products and services in the United States and abroad.
In brief summary, NMS is a Lead Sourcing Integrator servicing our Federal & Commercial Clients with:
Just-In-Time Emergency Spot Buys

Supplier Management & Procurement Services

Industrial MRO Equipment & Supplies

Tactical Gear and Supplies

Medical Equipment & Supplies

Consumer Electronics

Renewable Energy Solutions

Kitting Solutions

DD250 & Mil-Spec Packaging Services

Authorized AbilityOne Program Product Distributor, in conjunction with the National Industries of the Blind
NMS is a Lead Sourcing Integrator specializing in the global distribution of:
Industrial / Commercial Equipment & Supplies

Medical Equipment & Supplies

Renewable Energy Products & Supplies

Custom Apparel Products

MIL-SPEC Packaging, Labeling, & RFID Solutions
We are a CCR Registered Federal Contractor.
OUR CAGE CODE IS: 1J8D2

NMS has more than 15+ years of experience in successfully servicing our valued customers in both the Commercial and US Government arenas.

Our client base consists of organizations aspiring to reduce their Vendor Base, control their Transactional Non-Contract Spend, and reduce the administrative burden of tail end spend. NMS is industries' choice for procurement of unique supplies, one-time-buys, non-stock buyouts, non-leveraged spend, and tail-end spend. These procurements can account from between 15-30 percent of total procurment spend. NMS's Integration of Supply model brings this spend under one Strategic Umbrella improving the procurment process flow and creating bottom-line value to our clients.

NMS provides the highest quality products at the most competitive prices to federal and local government agencies and commercial customers worldwide. As a Certified SDB & HubZone Business Concern – NMS also aids organizations in meeting their mandatory diversity business objectives.
(Copyright © 2022) National Material Supply Co., LLC – "A Lead Sourcing Integrator - Servicing All Of Your Specialized Product Supply Needs."