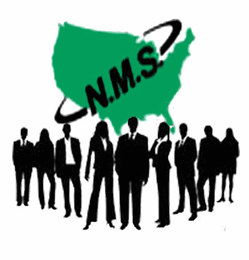 NMS Company Profile & Capability Statement
Founded in 1999 and headquartered in Dallas, TX USA, the National Material Supply Company, LLC (NMS), is a Certified HUBZone & SDB Supplier of a wide range of products and services in the United States and abroad.
In brief summary, NMS is a Lead Sourcing Integrator servicing our Federal & Commercial Clients with:
Just-In-Time Emergency Spot Buys

Supplier Management & Procurement Services

Industrial MRO Equipment & Supplies

Tactical Gear and Supplies

Medical Equipment & Supplies

Consumer Electronics

Renewable Energy Solutions

Kitting Solutions

DD250 & Mil-Spec Packaging Services

Authorized AbilityOne Program Product Distributor, in conjunction with the National Industries of the Blind
US Navy SeaPort-e Program
Contract Overview:
In 2002, the Chief of Naval Operations (CNO) promulgated Sea Power 21 to provide a framework to align, organize and integrate the U.S. Navy to meet the wide variety of challenges that lie ahead. To meet Sea Power 21 objectives and to increase efficiency, the NAVSEA Warfare Centers established the SeaPort Enhanced (Seaport-e) Multiple Award Contract (MAC) vehicle. This contract vehicle utilizes a web-based, e-business procurement portal, to facilitate performance-based service acquisition, leverage buying power, improve business intelligence and reduce cycle time. In October 2004, the Virtual SYSCOM Commanders formalized an agreement to expand the ordering community of SeaPort-e to include all Virtual SYSCOM activities and to leverage the success of SeaPort-e in achieving the aforementioned objectives across the Virtual SYSCOM. Additionally, other Navy activities, including the Military Sealift Command, Strategic Systems Programs, and the United States Marine Corps have chosen to use SeaPort-e.
National Material Supply Co., LLC (NMS) Contract Award Number: N00178-12-D-6972
Clients: NAVSEA Warfare Centers, NAVSEA Headquarters, its PEOs, and Field Activities, USMC, Office of Naval Research (ONR), Naval Research Laboratory (NRL), Defense Threat Reduction Agency (DTRA)
Contract Period of Performance: 26 March 2012 through 4 April 2026 (including award term options)
Contract Place of Performance: Four (4) Geographic Zones (Zones #3, #5, #6, and #7)
Available Order Types: CPFF, CPIF, CPAF, FFP, FPIF
NMS Mission:
To provide services, in response to task orders issued under this contract by the Naval Sea Systems Command, Naval Air Systems Command, Space and Naval Warfare Systems Command, Naval Supply Systems Command, Military Sealift Command, Naval Facilities Command, Strategic Systems Programs, and the United States Marine Corps, that potentially span the entire spectrum of mission areas supported by the activities and technical capabilities that comprise the various ordering offices.
To accomplish this, as a PRIME CONTRACTOR and as a Lead Sourcing Integrator, National Material Supply Co., LLC (NMS) has assembled a diverse, premier team of companies to support six (6) functional task areas encompassed by the Seaport Enhanced contract:
Six (6) Awarded Functional Areas (FA):
FA #2 – Engineering, System Engineering and Process Engineering Support
FA #4 – Prototyping, Pre-Production, Model-Making, and Fabrication Support
FA #6 – Software Engineering, Development, Programming and Network Support
FA #12 – Information System (IS) Development, information Assurance (IA) and Information Technology (IT) Support
FA #17 – Supply and Provisioning Support
FA #20 – Program Support
Our team of companies provides complete functional task coverage in five (5) geographic zones of the contract. Key to our strategy is placing a heavy emphasis on the importance of teamwork and partnership with small businesses (SB). Our approach and goal for our teammates is to ensure recognition of good work and customer satisfaction, provide team training on NMS and NAVSEA processes and procedures, build and position our SB teammates for growth, and share in the rewards of our team's successes.
This team compliments the NMS portfolio of services and products with a rich variety of demonstrated capabilities, bringing best value, lifecycle support and world-class solutions to each NAVSEA customer.
A description of the mission areas of the activities that are ordering offices on this contract can be found at:
Additionally, activities may provide limited support under this contract to other Department of Defense (DoD), non-DoD, or Joint agencies for work that is integrally related to product areas and mission.

Contact Information:
Kevie Hendrix
General Manager
Phone: +1 (877) 865-6415
[email protected]
Other Resources:
www.seaport.navy.mil
NMS Quality Assurance Plan
(Copyright © 2022) National Material Supply Co., LLC – "A Lead Sourcing Integrator - Servicing All Of Your Specialized Product Supply Needs."